Here is some info on what the car was like in Highschool!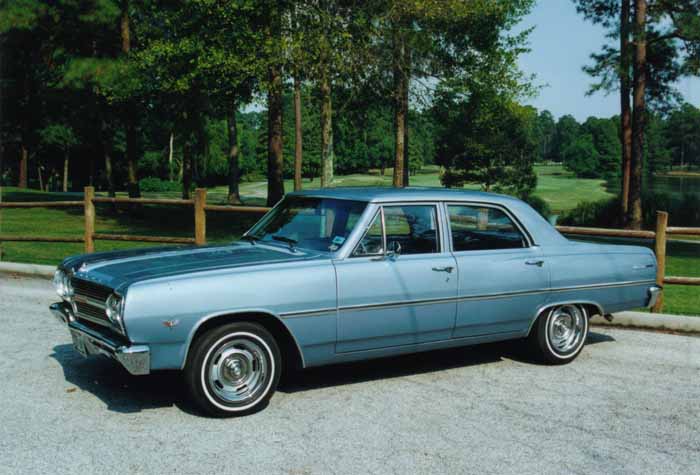 This was my 95% original 4 door 1965 Chevelle from 1997 to 2001. The car had 86k miles original. The odometer reads 26,000, but I had it redone when it read 59,500. Do the math. It is equipped with the following original factory options:

283 cuin V8 195 HP Engine 9.5:1 compression w/ rochester 2BBL Carb
2 speed power glide transmission
Factory (not dealer) A/C (4 seasons system)
AM/FM radio (had it in there, still have, but a put a custom audio sound with a disc changer in)
Bench Seats
Power Brakes

I have added/done the following

Power Steering
CD Disc Changer
Complete new interior (carpet, seats, headliner)
Paint Job
Re-chromed everything
Rally Wheels
Dual Exhaust (Dynomax Turbo Mufflers)
R-134a A/C conversion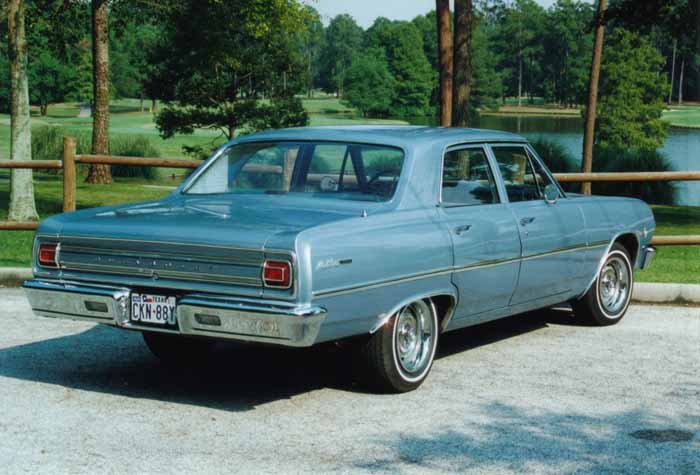 How I came to have this vehicle
When I turned 16, this 1965 Chevelle had been sitting in my Dad's driveway for about 3 years. He had bought it 6 years earlier (~1991) in California for my sister to drive. She got a newer Taurus after a while and there it sat. I started driving it, until one day my father and I decided to fix the A/C. We fixed it and as we were putting it back together he asked if I would like to get it painted, of course I responded hell yes. For the next 2 months I stripped the car down, all the chrome, bumpers, glass, dash, interior, inside and out. I sent the chrome to get redone, the dash and gauges to be refinished, got all new interior seats covered. We had the car inside and out painted to its original metallic blue. When we put the car together it was amazing. Since then I have been driving it daily. Lately it has started to burn some oil and the paint has faded. Future plans call for a new paint job, a new stronger engine and a 700R4 tranny!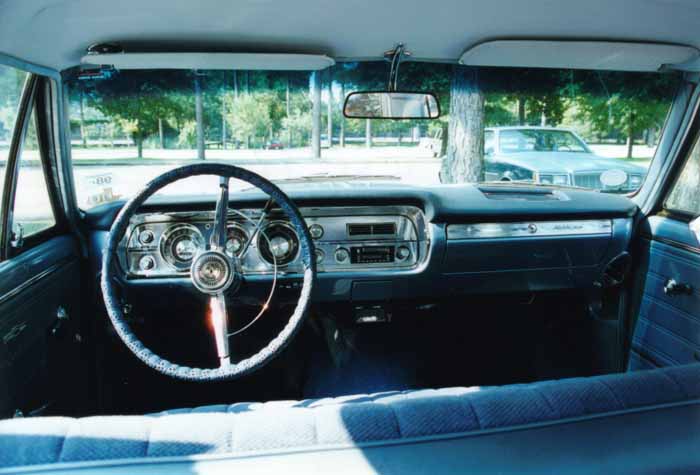 The above pictures are pretty sweet, I wish I could have kept the vehicle up in college, but now that I have steady income I will fix it. It is no where near as bad now as when I got it and here are the pics to prove it!